When was the last time the public wanted to write-off the Chicago Cubs? Was it this past series when they struggled offensively, was it prior to the end of the season to beat out the Brewers for the division, or was it prior to the All-star break when Hell was about to freeze over? Better yet, what about the 2016 WORLD SERIES when the Cubs where down 3-1 against the Indians. Must I remind you not to sleep on the Cubs. You know what, sleep on them. They thrive when the doubters come out.
Nothing bothers me more than when people say, "It's just not the same team as last season." Or "It's too hard to win back-to-back Championships." I'm sick of the excuses. I'd argue that the team is very similar to last year, other than loosing one starter in (Dex) and a closer (Chapman). Its arguable that the 2017 Cubs look just as good, if not better than last years team. I also feel like winning the WS could have only helped this young group of players gain experience necessary in clutch moments. It's probable that last year's postseason was able to build character in the clubhouse that is still ingrained in the 2017 Cubs.
Rather than giving a recap of everything the Cubs/ Maddon did wrong in the last few games, I'd like to touch on an optimistic approach going into tonight's game. First in foremost, they're definitely due for some offensive production. It honestly can't get much worse than it's been, but as far as tonight goes, look for the Cubs to get base-runners on early as well as getting themselves into favorable counts. As a team, they've been pretty bad at getting into hitters counts, hopefully this is a high priority for tonight's game.
Patience:
Patience is Major Key in Game 3, Patience for our hitters at the plate as well as Patience when pulling Hendricks. It's not a long shot for Hendricks to go 7 or even 8 innings tonight, which is ultimately the deciding factor in this game. With Hendrick's on the bump, it's sure to give the Cubs the confidence they need in this critical game 3 match up. Lets not forget what Kyle Hendricks is. Kyle Hendricks is a gamer. A gamer who should have been the NL Cy Young last year but doesnt have overpowering stuff. Overpowering stuff makes for a better thrower, not a better pitcher. I'm predicting Hendricks will prove what he is and get the Win tonight going 7 & 1/3 innings, with the Cubs outscoring the Dodgers 5-2.
And as for all those Cub Haters, since I know you wouldn't miss this game for the world. I Just hope you realize how dumb you'll look in your White Sox Jersey, as the Cubs come out on top tonight! Maybe Next year Sox Fans…. Us Cub Fans got a NLCS to Win! You can sleep on your White Sox but don't sleep on the Cubbies.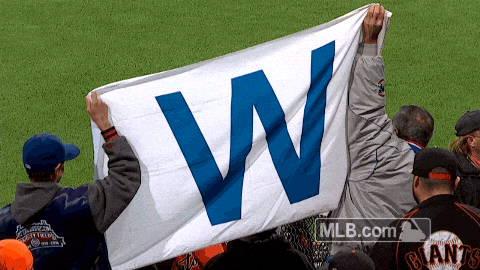 FLY THE W!